The bathroom is the second most used room in the house, after the kitchen, so it's important to have one that's functional, comfortable and peaceful. Residents of Coral Gables, Miami, Kendall, and the surrounding areas, call our team at Trimline Design Center, for our more than 40 years of expertise in bathroom remodeling. Our designers will work with you to remodel your current bathroom into a luxurious spa bathroom or update it by giving it a much-needed facelift. We work with you to create your perfect bathroom remodel while keeping your budget in mind.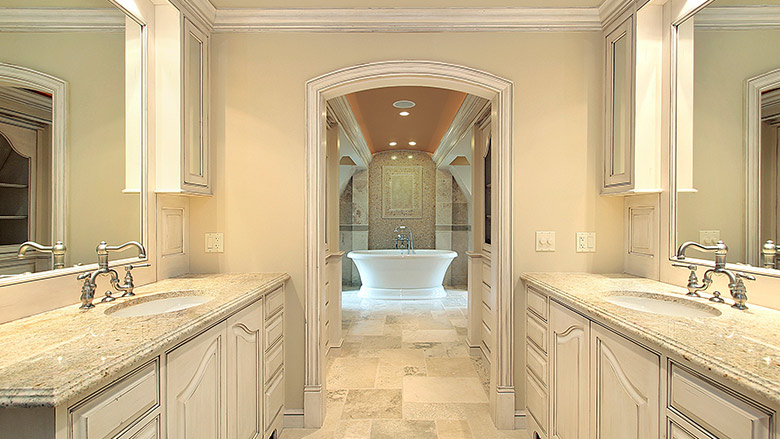 Remodeling Choices Galore
There are so many things to consider when taking on a bathroom remodeling project. Our design consultants at Trimline Design Center will sit down with you, in our showroom to discuss your ideas for your bathroom remodeling project. We will ask questions to consider while thinking about your new bathroom. How much cabinet and storage space do you need? How many people will be sharing this bathroom? What type of lighting would you like? Do you have a cabinet color in mind? What type of countertops are you interested in? Flooring? What overall décor theme do you prefer? Modern, traditional, farmhouse design? These are just a few of the topics you will discuss with our consultants, so they can create your perfect bathroom remodel. As we walk through our many samples in our showroom and decide on color, texture, cabinet style, you will begin to see your bathroom remodel come to life.
We Bring Our Expertise to You
Once your bathroom remodel is planned, we will come to your home to complete a walk-through and determine the size and scope of work. Our consultant will create a proposal of the entire project and submit it for your approval. Once you review and approve the plan, work can begin on your bathroom remodel. Trimline Design Center has been our family-owned business for more than 55 years. We have three generations working to create customized or standard bathroom remodels for your homes in South Miami, Palmetto Bay, Miami Lakes, and the surrounding areas. We only work with the highest quality products and craftsmanship. Customer satisfaction is our number one goal and returning customers are our greatest compliment. For more information on bathroom remodeling in Coral Gables, Miami, Kendall, Miami Lakes, South Miami, and Palmetto Bay, visit www.trimlinedesign.com.