WELCOME TO TRIMLINE
Kitchen cabinetry design and remodeling, bathroom cabinetry, outdoor kitchens, butler's pantry, laundry rooms… any cabinetry you need for your home we've got it covered. Pinecrest, Palmetto Bay, Coral Gables, Coconut Grove, Kendall, Key Largo and the surrounding areas of Miami. And we love to travel… we export too.
CREATING BEAUTIFUL SPACES SINCE 1964
Lyndon B. Johnson was President, gas was 30 cents a gallon, and the Beatles made their first appearance on the Ed Sullivan Show when Trimline Cabinets started in a small warehouse in Hialeah, Florida. Kitchen cabinets in Florida usually consisted of frameless laminated designs with the simplest hardware. Options were as scarce as quality…and Trimline Cabinets was determined to change that.
VISIT OUR SHOWROOM
Our founders, (my parents) Lester and Kathleen Collins, moved to our current location in 1976. We are located directly before the Palmetto Express ramp, so if you live in this area you have probably passed us a million times or so. Recently, our 8000 square foot building had a facelift. After 45 years, it needed, "a little something." Yes, Trimline is still owned by the same family since 1964, but during the remodeling, we divided the building into two showroom spaces. Trimline added another store, you may have heard of it… KOHLER. This is the first Kohler Signature Store in the State. Stop by, we'd love to see you and show you all the latest trends and some of the finest quality kitchen, bath and home design materials in the industry.
VIEW OUR PORTFOLIO
We know you have spent some time browsing the internet, tagging Pinterest, and following social media influencers hoping to find the right look for you, for your home. We applaud your clicking and swiping. Keep scrolling…view our portfolio and let us know if any of our work catches your eye.
Now you can put that effort towards more important endeavors. Like laundry.
THE TRIMLINE
DESIGN PROCESS
It takes careful planning to get the award-winning results that 'Trimline Design' is known for, and our world class design experience puts it all together in a way that's easy, and enjoyable. Give us a call or stop by our luxury showroom and our highly trained and experienced designers will work closely with you to bring your dream home to life. Whether it's your perfect bathroom, kitchen or any other part of your home.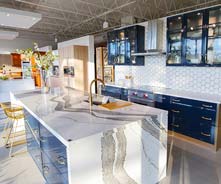 SHOWROOM
CONSULTATION
SHOWROOM CONSULTATION
It starts with a visit to our showroom. You'll have the opportunity to share your vision and wish list with our designers. Browse our various displays to find the cabinet manufacturer, style and finish you love. If you've found any inspiration online, now is the time to show us!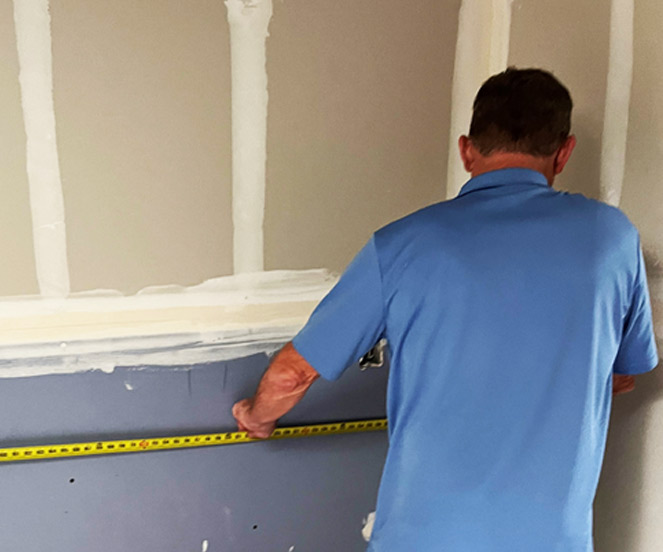 IN-HOME
CONSULTATION
IN-HOME CONSULTATION
An in-home consultation helps us determine the scope of work necessary to make your idea a reality. How you want to move through your kitchen, your view when you're cooking dinner, or how high you're willing to reach your cabinets are things we'll get a feel for during this time. Measurements are only a small piece of this process.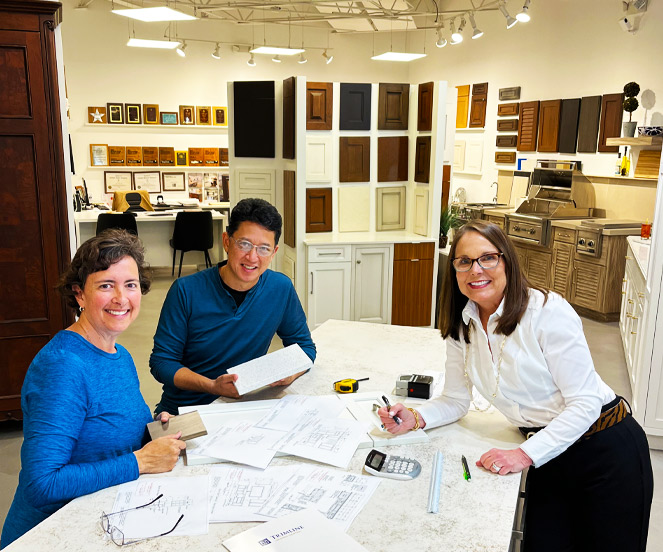 DESIGN
AGREEMENT
DESIGN AGREEMENT
We share your vision and excitement. We've taken measurements. Now we get to design your project for you. The design is based on your chosen cabinet manufacturer, door style, finish, and design. When you decide to proceed, we will start the process of design, product selection, and estimating. After you approve the design and you place your order, your cabinets will be delivered in 12-30 weeks depending on the manufacturer you choose.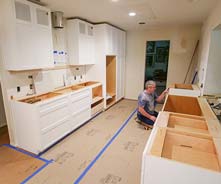 WORK
INITIATION
WORK INITIATION
Once your materials arrive your designer will work to make sure things progress according to plan and prepare you and your home for installation. While construction can be daunting, our years of experience have equipped us to foresee and circumvent many common issues.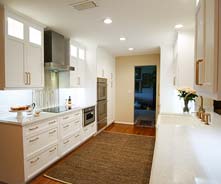 REMODELING
COMPLETED!
REMODELING COMPLETED!
Leaving behind a beautiful and functional space is a privilege. We want you to think of Trimline as a long-term partner for this, or any other project you may be considering in the future.
TESTIMONIALS
It turned out beautifully!!

Thank you Nancy, Richard, and Padge for seeing our kitchen through from beginning to end. Your company deserves its reputation and earned respect for making sure your customers are completely satisfied. We are thoroughly enjoying our new kitchen!!

When forced to remodel my kitchen due to a fire I turned to Trimline Design Center. As a repeat customer, I knew I would be dealing with a professional staff, high-quality products, and trusted workmanship. The design and installation process was choreographed and implemented by owners Nancy and Rick Ware ...

Thank you so much for a job well done!

We love our newly designed Kitchen and could not be more pleased with everything. We appreciated your attention to all the suggestions and details during the entire process. Finally, it was such a pleasure getting to know you better and the rest of your team! Thank you so much for a ...

I want you to know how happy Joann and I are with the results.

Now that all the work is done at our home (except for appliances}, I want you to know how happy Joann and I are with the results. The kitchen is beautiful and very functional. It looks great and its functionality is just right. We want to thank you Nancy and Richard ...

Another Happy Customer in her new kitchen designed by the team at Trimline Design!

I would highly recommend using her for your project, big or small!

Loved planning my remodel with Nancy. She was very professional and so helpful. She really knows what she is doing. Great attention to detail. I would highly recommend using her for your project, big or small!

Thank You again, we appreciate your knowledge and attention to detail.

Thank you for the kind word Nancy and our beautiful kitchen! You and quick Rick are so great! We knew from the beginning that a kitchen makes the house and if we wanted our house to look fabulous, we needed to go with the only company in Miami that would ...

We love our kitchen and would recommend Trimline without reservation!

We had an extremely positive experience with Trimline. We did a huge remodel on our home and a big part of that was our kitchen. Nancy was wonderful and took us through a very thoughtful and detailed process to design our kitchen both from a function as well as aesthetic ...

I highly recommend Nancy and Trimline for any kitchen or bath renovation project.

Nancy Collins at Trimline is a true professional who really listens and cares about her clients. We are forever grateful to Nancy for helping us navigate through a stressful situation and urgent kitchen remodel & timeline. The Trimline showroom is beautiful and offers a large selection of manufacturers and materials ...

I can't speak highly enough about Nancy Collins at Trimline!

I can't speak highly enough about Nancy Collins at Trimline. We had a water line break and had to gut and completely renovate our kitchen ASAP. Nancy has done an amazing job - she listened to what we were trying to accomplish, helped us select everything, guided us through the ...

It is everyone's favorite place in the house!

Doing any type of remodeling or construction in your home can be such a stressful process, especially when you remodel your kitchen – what I consider the heart of the home. The Trimline team, however, made this process an enjoyable one. From day one, we felt at ease with their ...

You did such a beautiful job and it was a pleasure working with your entire team. Best team ever!!

Your kitchens get prettier and prettier. You guys do an awesome job. I Love my kitchen. It puts a smile on my face every morning and every night when I turn the lights off. Thank you again.

Thank you again for all your advice. You have been a tremendous help and peace of mind with almost no stress.

We are very happy with the work you did!

Dear Nancy, Thank you for the last job. They just left and returned the key to the apartment. We are very happy with the work you did. If you want to see the work, pass by our place. We will be back in the fall. Thank you again.

"I wanted to let you know that we are really enjoying our kitchen and the cabinetry turned out beautifully. Paul came by and drilled the hole for our reverse osmosis faucet, so we finally have our drinking water. And he expertly aligned the drawer we had been having issues with. ...

We love our kitchen! Hey Dan, Hope Covid is finding you healthy 🙂 I've been meaning to thank you, "forever" for our great kitchen! It made isolation so much better! Often, Juan and I will look at each other and say "We love our kitchen". You made my day! Thank you ...

Incredible attention to detail!

"Trimline Design Center has done an amazing job for me on repeated occasions dating back to 1986, when they designed and installed my kitchen. Over the years, they also did renovations of two bathrooms, a laundry/utility room, and a wall of built-in bookcases. I went back to them over and ...

No wonder you have been in business all these years!

"Got running water and all plumbing is done. Putting my kitchen together (just a little bit). All I want to say is I can't thank you enough. I'm so happy with the outcome. I was putting spices in the drawer. I LOVE IT SO MUCH!! If you were here, I ...

Trimline has really helped us through this process

Kitchen remodeling is so overwhelming but with Trimline Design you can feel at ease. It has a beautiful showroom that offers you a variety of kitchen designs & styles you can see & touch to help you visualize your dream kitchen. Nancy, the owner is simply just wonderful! We can't ...

Dan's efficiency and organization make his projects seamless.

It's a piece of art! Thank you for your beautiful work!

"I have not had the opportunity to see you and thank you in person. But I have to tell you have happy we are with our new kitchen, bathroom and utility room. The kitchen specially leaves people speechless and it has changed our whole lives for the better."

Having you both involved on a daily basis was very helpful and reassuring.

"I wanted to take a moment to write and thank you for the fine job your company did remodeling our kitchen and bathrooms in our fine Coral Gables' home. You delivered everything as promised, on time and on budget. Having you both involved on a daily basis was very helpful ...

Many thanks for the beautiful and professional job you did for our kitchen!

"Having remodeled several high-end homes ourselves, we truly appreciate superior workmanship and reliability, which is somewhat rare in this industry. It was a genuine pleasure to deal with you, your installers and your subcontractors. Thanks again to Richard and Nancy"

We will enjoy our kitchen for many years to come.

"I just wanted to thank you for the beautiful arrangement, and to let you know how pleased we are with our new kitchen. I have moved all my things back into it, hung pictures, and added a few more personal touches, and it is beautiful. Last Sunday we had a ...

Our business experience with Trimline Kitchens has been very favorable.

"We love it!! You are fortunate to have the remarkable professionals who have the skills and patience to create such improvements for customers. On September, when we started our discussions with Steve Reed, we had some ideas of the changes we desired – but in retrospect it was Steve who ...

Thank you for all your patience!

"Thanks for much for the beautiful plant basket you sent us on Valentine's Day. We are enjoying our kitchen and can honestly say it was a wonderful experience."

Thanks for the beautiful kitchen!!

"Love it! Thanks, too, for the plant basket – perfect for the end of my island!! You and all of Trimline are great to work with! Let's stay in touch!"

Thanks again for a great job!

"David and I want to thank you so much for our beautiful kitchen. Now that we are getting a little settled in and things aren't such a mess, please come and take your pictures. The tile backsplash is finished. We also want to thank you so much for sending the ...

The flowers are beautiful!!

"What a lovely surprise!!! We love our kitchen and it was a pleasure doing business with you. Many thanks for your thoughtfulness."

My experience was exactly what I expected

"My experience with Trimline Design Center is exactly what I expected, professional, detail orientated and met the needs of my customers. As a real estate professional for over 40 years in the Miami area, I have recommended Trimline Design Center to my customers with complete confidence. I would ...

The kitchen came out great, high quality cabinets!

"I decided to hire Trimline Design Center because it has a great reputation and is family owned. Trimline renovated my kitchen from soup to nuts! They helped me re-design the layout, guided me through the cabinet process and helped me pick out appropriate appliances that suited my needs. ...

Oh, yes, I was overjoyed!

"ONE day in Miami with Nancy and I had picked out counters, flooring, and all new appliances. The project was finished ahead of schedule, and she coordinated with all subcontractors."

I was extremely impressed with the quality and timeliness of the project.

"In 2014 I was hired as a Design Consultant on a remodel to provide furnishings, accents and draperies. During my time working on that residence, Trimline was the designer and contractor of the kitchen and bathrooms. I was extremely impressed with the quality and timeliness of the project. ...

Nancy and Richard are very professional.

"Nancy and Richard have been installing cabinetry and providing turn-key Kitchen and Bath installations for years. My first experience was back in approximately 1988 when a good friend of mine in the Interior Design industry worked for them. I have seen finished installations done by them and have ...

Nancy and her team will make your kitchen dreams come true!

"As professional painting contracting company, we have clients with high standards and when they ask us if we know who they should contact for their kitchen remodeling, we recommended the best, Trimline Design Center. Nancy and her team will make your kitchen dreams come true. It is a ...

I would like to thank you for our beautiful kitchen!

"The cabinets are beautiful, and the quality is top notch. My kitchen is totally different; what a makeover! Your workers are first rate, and did a great job installing my kitchen. I will certainly recommend you to my friends."

We could not be happier. Thanks!

"Nancy and her team provided excellent service at a faster than expected rate. We did our kitchen and two bathrooms!"

"Beautiful brand new remodeled kitchen showroom right in Pinecrest. Easy to get to and friendly staff. Highly recommended!"

Now, twenty-eight years later, we have returned to Trimline for a kitchen remodel!

"After firing our contractor, we had a mess on our hands. We desperately needed to find someone professional, knowledgeable and trustworthy to help us tackle an incomplete job. A new amazing kitchen and two lovely bathrooms later, Nancy Collins, Trimline CEO, had come to our rescue! Indeed, she ...

I'm thankful to have Trimline remodel my kitchen after twenty years.

"I rarely write reviews. I enjoy reading them. So, I figured I should do my part. I'd like to let the readers know that I recently remodeled our kitchen after twenty years. Richard and Nancy were able to guide us through the steps and offer choices along the ...

We recommend Trimline Design Center without hesitation!

"When the time came to update our kitchen, we wanted to work with a professional, reliable, and trusted company that offered high quality products. After much research, we chose Trimline Design Center. We are so happy we did -- the Trimline owners (Nancy and Rick) were a pleasure ...

Richard and Nancy listened to our needs and created the perfect kitchen for us.

"After searching for a reliable kitchen design and renovation company, my wife and I went with Trimline Design Center. Richard and Nancy listened to our needs and created the perfect kitchen for us. Nancy has an incredible attention to detail- and their craftsmanship exceeded our expectations in all ...
INSPIRATION IS ONE SERVICE WE OFFER
VISIT OUR KITCHEN + BATH SHOWROOM
10001 South Dixie Highway, Pinecrest, FL 33156