Bathroom and Laundry Room Cabinetry in Kendall, Key Largo, Miami, Palmetto Bay, Pinecrest, Coral Gables, FL, and Surrounding Areas
Making a Bathroom a Part of Your Dream Interior
BATHROOM & LAUNDRY ROOM CABINETRY BY TRIMLINE DESIGN CENTER
Clever storage, beautiful amenities, the perfect lighting, exquisite flooring: when it is executed expertly, a bathroom becomes a beautiful place of comfort, peace and tranquility. The professionals at Trimline Design Center have years of experience in bathroom and laundry room cabinetry. If you are looking to change the look of your bathroom or laundry room and give it an absolutely new appearance, Trimline offers a host of cabinetry options.
We invite you to take a look at what we have already completed for clients throughout Kendall, Palmetto Bay, Miami, Key Largo, Coral Gables, Pinecrest and so many other Florida cities and communities by visiting our Online Portfolio.
VIEW PORTFOLIO
Bathroom Cabinetry
Whatever your reason for wanting a new bathroom, Trimline Design Center is here to help.
Function: With a well-thought remodel or renovation, your bathroom can become a room that works perfectly for you and your family members. From smart and appealing cabinetry to beautiful tub and shower conversions, we can make your bathroom a more attractive and family-friendly space.
Storage: Trimline Design Center can improve and increase usable storage space with custom cabinetry designed specifically for your bathroom or laundry area.
Safety: An ill-conceived bathroom layout can actually contribute to in-home accidents. You can help reduce those risk with thoughtful designs and smart floor plans. We can also handle any necessary revamps that need to be made to make your bathroom handicap-safe and friendly.
Increase Resale Value: Property appraisers and real estate professionals agree: beautiful bathrooms are a major factor in determining a home's value. They are also a very important consideration for home buyers.
During your initial complimentary consultation in our showroom, our friendly designers spend a great deal of time listening to your specific ideas in order to understand your desires. They will also show you a variety of products that align with your vision. Our in-home consultation allows us to accurately gauge the work that will be required to make your new bathroom a reality. Once we've created a proposal and it receives your approval, we go to work.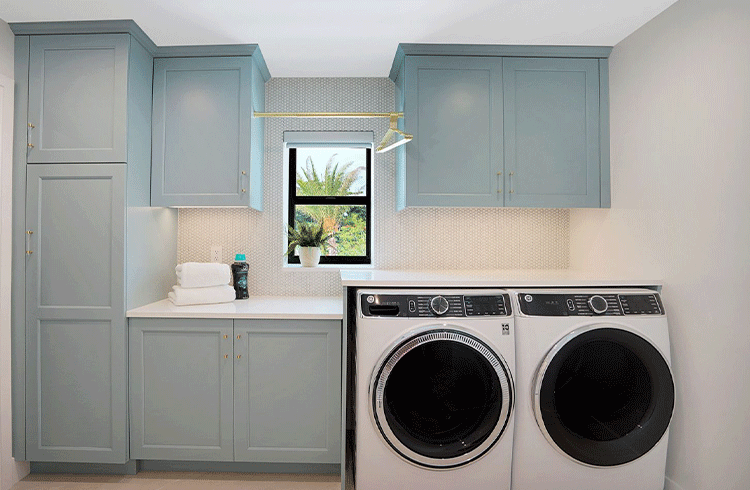 YES, YOU CAN ENJOY YOUR LAUNDRY ROOM!
It's one of the most forgotten rooms in every house, yet it plays a significant role in your everyday life. Everyone in the family loves clean clothes but no one likes doing laundry. While we can't increase your love for this household chore, Trimline Design Center can make it a more pleasant experience by creating an environment that's both visually appealing and extremely convenient. From custom cabinetry to adding a sink, building a closet, focused lighting and so much more, we can give you a space that makes doing laundry a lot more fun!
INSPIRATION IS ONE SERVICE WE OFFER
VISIT OUR KITCHEN + BATH SHOWROOM
10001 South Dixie Highway, Pinecrest, FL 33156