Do you have a laundry room in your home in Pinecrest, Palmetto Bay, Coral Gables, Ocean Reef, Miami, Key Biscayne, or the surrounding areas? More and more the laundry room is the room that can make or break a home sale. Before you think of putting your home on the market, you need to call Trimline Design Center and work with their experienced staff to get a laundry room added to your home. Since buying a home is a major investment for people, they would rather be able to do their own laundry in the comfort of their home rather than have to go to a laundromat. Contact us today to learn how we can make your home the most desirable in the neighborhood with a laundry room.
What Makes a Laundry Room?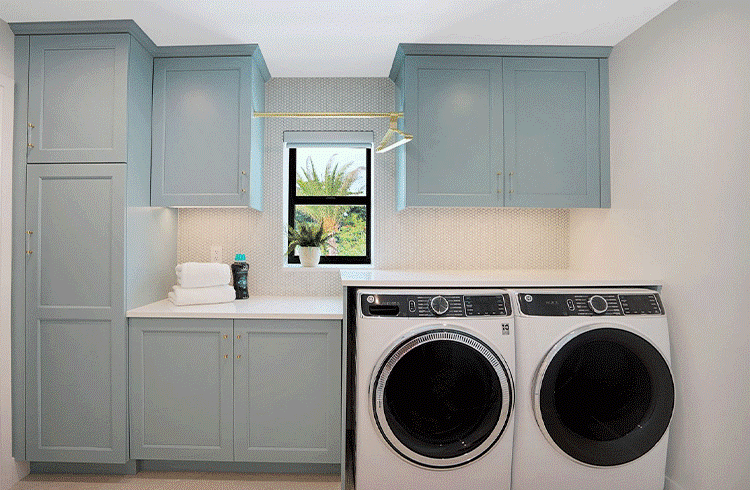 From a survey done just a few years ago of nearly 4,000 first-time home buyers, an astonishing 91% of respondents said that they wanted a laundry room. And while it is tempting to just throw up a few cabinets and call it a laundry room, a little more thought should be put into the room. As you see in this image of a laundry room, the room is bright and the colors remind you of water with the blue cabinets as well as clean. Plus, it has important features specific to the laundry room, such as the rod positioned between the upper cabinets for hanging shirts and other clothes, as well as the counter space for folding laundry, both next to the machines as well as over the machines. Additionally, you will see the tall cabinet on the left which can house an ironing board. Essentially everything that you need to clean, press, and fold your laundry is located in this room.
Let Us Make Your Laundry Room
From that same survey where a very high percentage indicated they wanted a laundry room, more than half of those people deemed a laundry room essential to a home and would not buy a house that didn't have a laundry room. With this strong indication from home buyers in Pinecrest, Palmetto Bay, Coral Gables, Ocean Reef, Miami, Key Biscayne, and the surrounding areas, you don't want to take chances when you decided to add a laundry room. Contact Trimline Design Center today to have our experienced team work with you to add a clean, organized laundry room to your home.