Your family enjoys spending time at home, watching movies, and listening to music, but your audio-visual components and wiring are all exposed, making it look unorganized. This takes away from the entertainment experience. Our design experts at Trimline Design Center can create a custom entertainment center for all the components and wiring in your home in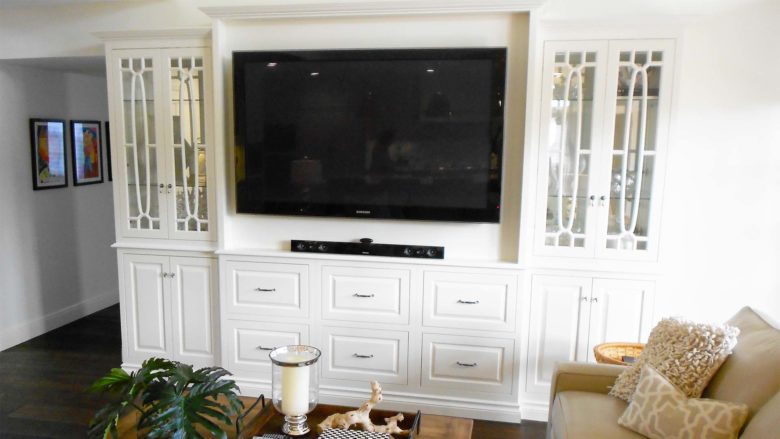 Kendall, Pinecrest, Palmetto Bay, Key Largo, and the surrounding areas. Combining clever storage solutions with innovative design, our designers will create a one-of-a-kind custom entertainment center for your electronic needs, as well as satisfying your design style.
Stylish and Functional Custom Entertainment Centers
Regardless of your design style, our professional designers at Trimline Design Center will create your dream custom entertainment center. Whether you require a great deal of additional storage or you prefer to display your books, movies, and memorabilia, we have the creative solutions for you that will blend beautifully with your existing décor. When you come into our showroom, you can explore our many samples of high-quality craftsman cabinetry, finishes, door styles, and accessories. Our designer will work with you to create the perfect combination of function and style in your custom entertainment center. Friends and family in Miami, Coral Gables, Kendall, Pinecrest, and the surrounding areas will all gather at your house to enjoy movies and music from your new, beautifully crafted custom entertainment center.
Bringing 50 Years of Experience to Residents of Palmetto Bay, Pinecrest, Coral Gables, and the Surrounding Areas
Lester Collins founded our company more than 50 years ago and since then, three generations of our family-owned and operated company have been creating custom entertainment centers, kitchens, offices, outdoor spaces and more, for satisfied customers in Key Largo, Pinecrest, Palmetto Bay, Coral Gables, and the surrounding areas. When you walk into Trimline Design Center, you will be greeted by our friendly staff, who will answer all your questions. We will introduce you to a designer, who will discuss your ideas with you and offer creative, functional solutions to bring your design ideas to life. At Trimline Design Center, our goal is to create your perfect custom entertainment center. We take pride in our work and it shows in our customer reviews, referrals, and returning customers. For more information on designing a custom entertainment center in Miami, Coral Gables, Kendall, Pinecrest, Palmetto Bay and Key Largo visit www.trimlinedesign.com or call 305-666-7609.