Many families don't think of the bathroom as a place to relax. It's usually the place that is used quickly and not really thought about. New bathroom cabinetry is a way to bring the bathroom into the light and have family members realize it's a place to refresh and renew. Homeowners in Key Largo, Miami, South Miami, Miami Beach, and the surrounding areas, are discovering that bathroom remodeling is the best way to make the room more useful and relaxing.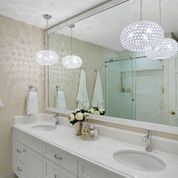 Changing the Look and Functionality through Updated Bathroom Cabinets
If you find your bathroom items are never within reach, you need more cabinet space and countertops, then it's time to consider new bathroom cabinets. Our Trimline Design Center has been in business since 1964 and has the best design ideas in the business. Families from South Miami, Miami Beach, Palmetto Bay, Coral Gables, and the surrounding areas, have plenty of bathroom remodeling ideas to check out in our showroom. Whether you have creative bathroom remodeling ideas or need help deciding on a design, the staff at Trimline Design Center are here to make your new bathroom cabinet ideas come true.
Four Goals to Create the Perfect Bathroom Remodel
We have four goals for our clients from Key Largo, Miami, South Miami, Miami Beach, and the surrounding areas, we like to meet when deciding on bathroom remodeling. They are;
Function: What function will your bathroom need? Is it a bathroom that's just used for guests? Will multiple members of the family be using this bathroom? These are some of the questions that will need to be answered, to make smart decisions about bathroom remodeling. Our goal is to make your bathroom remodel a family-friendly and attractive space.
Storage: By designing custom cabinetry, we can provide new storage space for your bathroom remodel. Housing all the items you may currently keep on your countertop provides a clean, crisp look in your new bathroom remodel.
Safety: Accidents often occur in bathrooms with a design that's not well thought out. Designing a new, safe floor plan for your bathroom remodel, will prevent accidents. If handicap safety measures are needed, we can also provide those, while keeping in mind the new style of your bathroom.
Increase Resale Value: When you decide to sell your home, you want to get the best price available. Bathroom remodeling is one way to increase the value of your home and drive up the price.
Each of our designers will work with you to make sure you have defined the perfect bathroom remodel for your home. Our designers will make sure they understand exactly what you want, during the complimentary consultation in our showroom. For more information on bathroom cabinets, call Trimline Design Center at 305-666-7609.