Trimline Design Center carriers everything you need to make your bathroom the tranquil oasis and spa relaxation you have been looking for. Bathroom remodeling has never been as turnkey as what you will find at our showroom. Our consultants will find the functional and discreet storage options, the glamorous and clean fixtures, soothing color schemes and more.
Many people are hoping their bathroom remodeling will create a "spa" bathroom. If this is the look you want to incorporate into your bathroom remodeling, Trimline Design Center can assist in designing and picking out the right features to reach the design you've been dreaming of.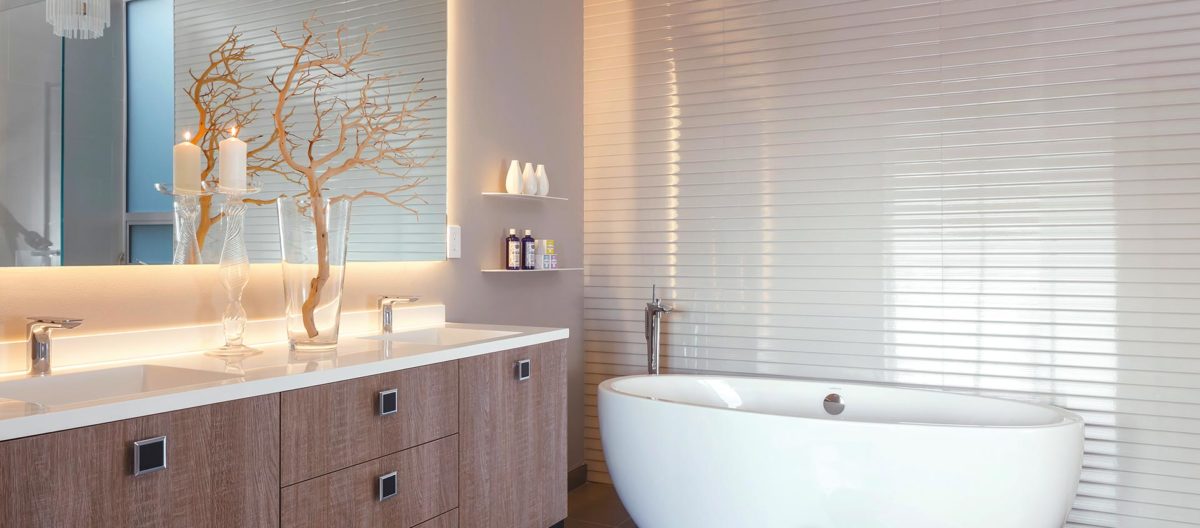 When working on your new spa bathroom, a guideline to keep in mind throughout the process is "absolute relaxation". We are seeking designs that promote relaxation, reduce stress and promote well-being. We accomplish this by using soft and light colors. The color scheme is extremely important since colors such as light blue or green convey a sense of calm. Pale pinks can give a more feminine or romantic look. Occasionally we recommend adding colors with accessories, but we can also use them on a feature wall or variations in tile. To go with your color scheme, we will also design new lighting that highlight certain areas.
Another feature often found in spa bathrooms are upgraded showerheads. A showerhead with a handheld extension, additional showerheads for "rain" like features or even more than one showerhead is an enhanced feature that can easily be added during your bathroom remodeling. We have many different options in our showroom as well as showerheads that are special-order from top manufacturers.
We also recommend high-end faucets and sinks. One of the most used aspects of your bathroom, the faucets and sinks will play a large part in your sense of relaxation and well-being. Some of our clients like to use a high-end vessel sinks to convey the feeling of high design traditionally found only at specialty spas and hotels.
Lastly, we can't forget the tub. The tub needs to be epicenter of relaxation. Again, this is the place to show off high-end designs. Many of our clients go for the ultimate during their bathroom remodeling and spurge for the clawfoot tub or an oval free-standing tub. Whatever you choose we want it to work with function and style in your Coral Gables, Kendall, Key Largo, Miami, Palmetto Bay, and Pinecrest bathroom remodeling.