One of the best reasons to live in Florida is that you get to enjoy the warm weather all year long. What better way to enjoy your time outside, than relaxing by an outdoor kitchen. Installing an outdoor kitchen does need planning, so it is best to turn to Trimline Design Center. They have been creating backyard outdoor kitchens for more than forty years. The size of your backyard, will determine the size of the outdoor kitchen space to be used. Our designers will work with you to bring your outdoor kitchen, in Miami, Coral Gables, Kendall, Key Largo and the surrounding areas, to life.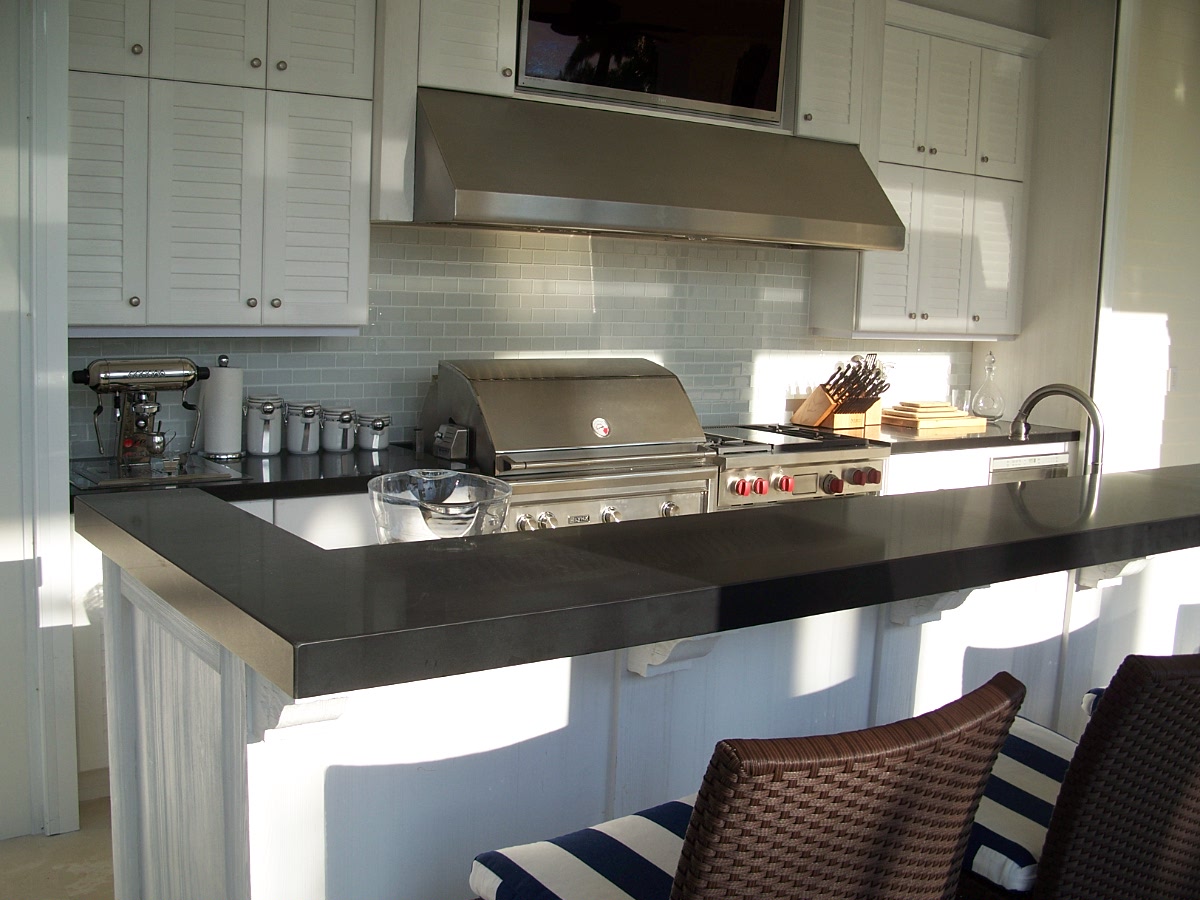 Creating an Outdoor Kitchen of Your Dreams
When we create an outdoor kitchen for you, we will discuss exactly what you would like. Of course, you will want a barbeque, counter space to use for cooking and a section for high top seating, along with an outdoor refrigerator. We could also add outdoor cabinets below the counter top for additional storage space. Whatever you want in your outdoor kitchen in Palmetto Bay, Pinecrest, Key Largo, Kendall, Florida and the surrounding areas, we can add. If you would like a full outdoor kitchen to rival your indoor kitchen, our designers will create that look for you. We can create the outdoor kitchen of your dreams.
Durable and Sustainable Outdoor Kitchens
Planning an outdoor kitchen requires our designers to meet with you, at your home to measure the outdoor area which will be used. Creating a perfect outdoor space for you and your family in Miami, Coral Gables, Kendall, Key Largo and the surrounding area, is the goal of Trimline Design Center. Florida weather is usually very warm and we can't forget about the rainy season. Taking weather conditions into consideration is key when planning cabinets and countertops for outdoor kitchens. All the materials used, need to be able to stand up to the warm temperatures, strong sun, torrential rain and even the cold weather we can experience during the winter. We, at Trimline Design Center, have worked with many families, through the years, creating their dream outdoor kitchens. Whether you would like a simple outdoor kitchen or a complete outdoor kitchen, our designers at Trimline Design Center will create the perfect space for your family. For more information on outdoor kitchens, reach out to Trimline Design Center at 305-666-7609 or visit us at www.trimlinedesign.com.