When purchasing a new home in Key Largo, Palmetto Bay, Coral Gables or Miami, the one requirement most requested is a functional, updated kitchen where family can gather and spend time together. Often called "the heart of the home," kitchens are the safe-haven where kids feel comfortable talking to mom and dad over a snack. It's the room everyone gathers in when there's a party and it's the place where families take the time to have dinner each night and discuss their day. Having an outdated, old kitchen takes away that homey feeling you want, but maybe you're not ready for a full kitchen remodel. That's okay. At Trimline Design, we take pride in working with each client to create a customized kitchen cabinet design that will bring life back to the room with or without remodeling the entire kitchen.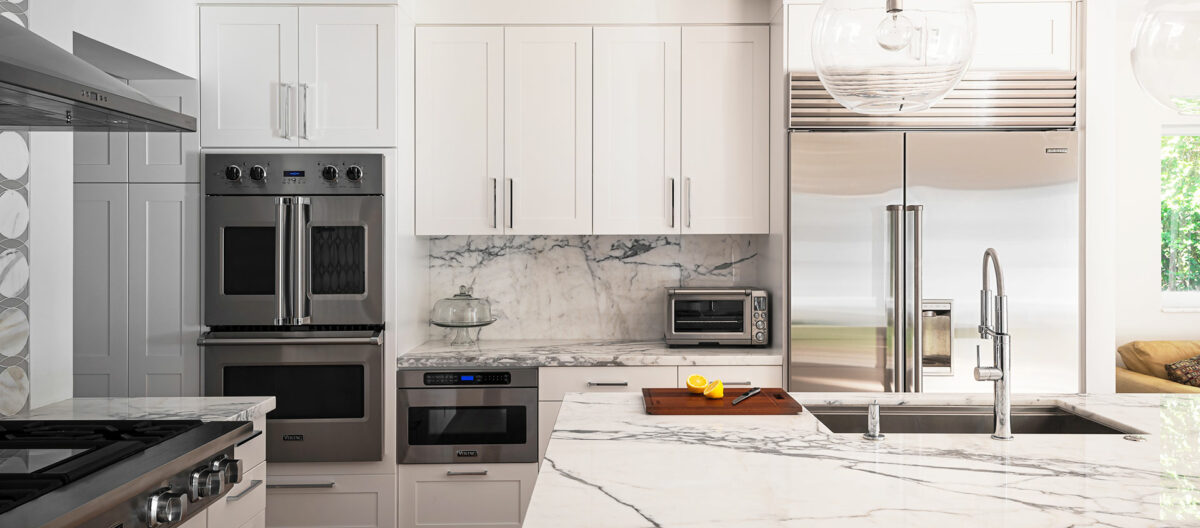 Traditional? Country? Modern? How Can I Choose?
Meeting with our cabinet design experts is a multi-step process to make sure your dream kitchen cabinets are exactly to your specifications. You will first meet with our designers in our show room so you can see the quality of the cabinets we offer. Then you'll discuss what style of kitchen cabinets you want. Whether it's traditional, rustic, country, craftsman, transitional or modern, we can help you find the right style for you and give you the kitchen cabinet design of your dreams. You will discuss design, color and texture desired. You can start thinking about flat surface cabinets or raised panels or recessed?
Welcome to Your New Kitchen Cabinets
The next meeting with our design experts will take place in your home, whether you live in Key Largo, Kendall, Pinecrest, Palmetto Bay or the surrounding areas. This is where our design experts use their years of skill to visualize and plan your kitchen cabinet layout. They will walk you through their kitchen cabinet design ideas and make any adjustments you desire. Once you approve the design, our staff gets to work installing your new, quality kitchen cabinets. The next time you walk into your kitchen, you will feel like you're on a TV makeover show! For more information on kitchen cabinet designs in Miami, Coral Gables, Kendall, Pinecrest, Key Largo and Palmetto www.trimlinedesign.com or call (305) 666-7609.