You've been cutting pictures out of magazines, spending hours scanning websites and sketching your perfect kitchen on paper. Now, you need to bring your designs to life. For a full kitchen design, the only company you will trust with this big project is Trimline Design Center. With more than 55 years in business, Trimline Design experts will help make your kitchen design dreams a reality. Homeowners in Miami, Key Largo, Coral Gables, and Palmetto Bay trust the quality and craftsmanship our design experts provide.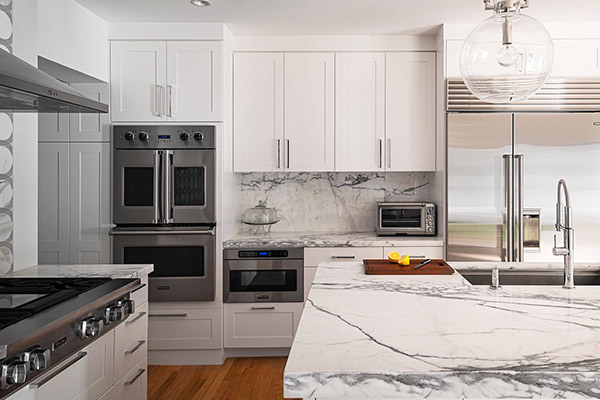 Kitchen Design to Kitchen Reality
From the very first phone call to Trimline Design Center, you will feel secure knowing that our design experts will make your kitchen remodel a breeze. Our experts are your full-service general contractor, making sure everything is executed properly, from the first conversation, to viewing samples, to design plans and picking out kitchen cabinets to appliances and counter tops, to final installation. You won't have to worry about working with several contractors and keeping everyone on track. We take care of the entire process.
Consultation to Installation
Bringing your ideas to our showroom is the first step. Our experts will discuss your ideas, in detail to fully understand your kitchen design concept. Browsing the many samples for color, texture, and design is part of the process. Putting all the design pieces together is our specialty.
After you've picked out your ideal kitchen, our consultants will visit your home to assess the space and determine the breadth of work. Once your home walk-through is complete, our design experts will prepare a detailed proposal outlining each step of the project.
Final Approval to the Big Reveal
Your satisfaction is our greatest reward, so a careful review of the kitchen design proposal is the next step to your dream kitchen. Our family owned and operated company has designers available to answer any questions you may have regarding the proposal, renovation and installation procedures. We aren't happy unless you are happy. Once approved, we begin the ordering process, and removing your old kitchen to make room for your new and improved custom kitchen. Our kitchen design experts will make sure homes in Palmetto Bay, Kendall and Pinecrest get the detailed attention they deserve to provide the kitchen design reveal worthy of a home design show. For more information on kitchen design and custom kitchens, visit www.trimlinedesign.com