Providing custom kitchen cabinetry since 1976, Trimline Design Center understands there's more to kitchen cabinets than just a place to store dishes. Custom kitchen cabinets reflect each homeowner's style in Miami, Key Largo, South Miami, and the surrounding areas. Whether you prefer a sleek, modern custom kitchen design, traditional or farmhouse kitchen, our designers will help you create the custom kitchen of your dreams and work with your budget in mind.
Bringing Your Imagination to Life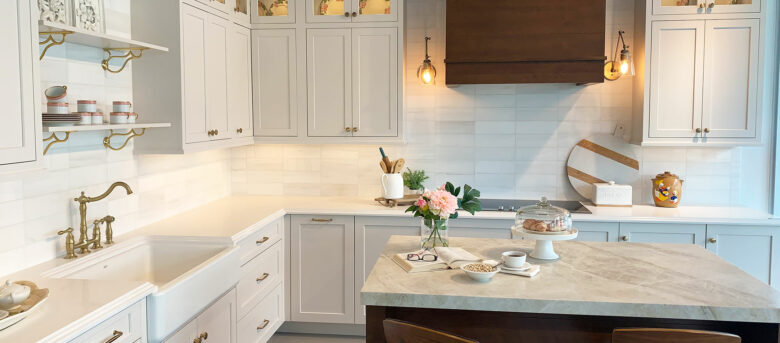 The great chef, Julia Child once said, "The more you know, the more you can create. There's no end to imagination in the kitchen." Our designers at Trimline Design Center can create the kitchen of your imagination. We will combine a fully functional, efficient kitchen with the style that fits your personality best, for your home in Miami Beach, Kendall, Coral Gables, and the surrounding areas. Our custom kitchen cabinets can be built to accommodate appliances, hide appliances to keep your countertops free of clutter and create ample storage.
Whether your kitchen is large or small, every kitchen needs a flow. A certain order to make cooking, cleaning and enjoying the space easy and comfortable. We will create a custom kitchen cabinet flow that will work for you and your family.
What's Your Style?
Cabinets are the furniture of your kitchen. You should put the same thought and effort into choosing your custom kitchen cabinets, as you would to choose a couch. Cabinets will be an important part of your home for many years. Many consider the kitchen the heart of the home.
It's the room where family and friends gather, where children do homework or have after school snacks. It's the room where memories are made. What feeling will your custom kitchen cabinets evoke? A rustic farmhouse, or a sleek and glossy modern look. Perhaps you prefer traditional or transitional. Our consultants can create the custom kitchen cabinets that bring out your personality and style to make the kitchen your favorite room in the house. All our work is custom, so you will never find your kitchen design in another home. If you're not sure what style custom kitchen cabinets you prefer, you can explore our showroom with your consultant. We offer many styles, colors, and textures, so you are sure to find something that sparks your interest. For more information on custom kitchen cabinets in Miami, Coral Gables, Miami Beach, Kendall, South Miami, and Key Largo, visit www.trimlinedesign.com.