Walking into a custom home closet can be like opening the greatest gift on your birthday. When that closet has sufficient, organized storage for all your belongings and a center island with drawers for lingerie, jewelry, or ties, it's the icing on the cake. Not everyone is lucky enough to buy a house with an amazing custom home closet but you can have the design experts at Trimline Design create one for your home in Miami, Coral Gables, Key Largo, and the surrounding areas. Whether your space is large or small, our design experts can create your dream custom closet.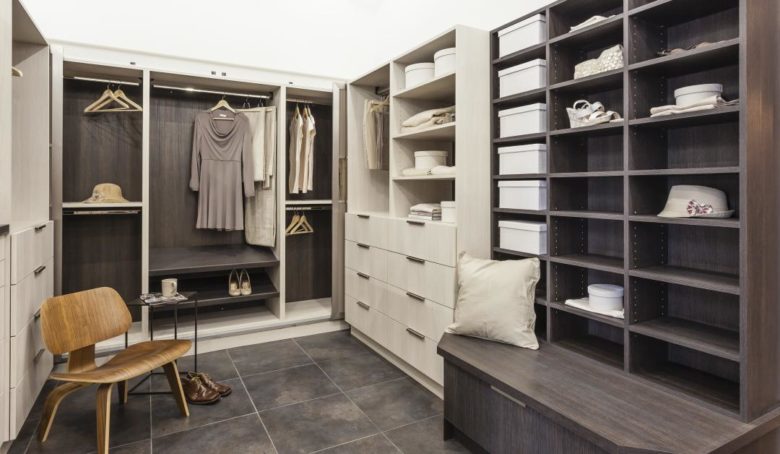 Making Your Custom Home Closet Dreams Come True
If you want to create a custom home walk-in closet, boutique closet or reach-in closet for your home in Kendall, Pinecrest or Key Largo, our designers will work with you to bring your dream to life. Explore the Trimline Design showroom for wood finishes, cabinet designs, lighting, and countertops. Working with our designer, you will plan the layout of your closet for ultimate organization and flow. Do you want a center island with drawers? How much long hanging space do you require? Will you need many shelves for shoes? Purses? Are you sharing this closet? These are some of the questions you will need to answer, so you get the perfect custom closet you desire.
From Design to the Big Reveal
Whether you want a sleek, modern design with lacquered wood or a traditional or country-chic vibe, the experts at Trimline design can help. With more than 40 years of experience, this family-owned and operated company puts customer satisfaction at the forefront of every project. Three generations work together to provide their customers with high-quality custom home closets and more. From the first in-showroom visit to look at our galleries, to the in-home assessment and measurement to ordering and installation, our experts are with you every step of the way. We are here to answer questions and oversee the install to make sure the job is done exactly to your liking and up to Trimline Design standards. The best part of our day is showing you the big reveal. Our attention to detail, courteous service, and great pricing keeps customers coming back, again and again. The greatest compliment we can receive is a recommendation from our loyal customers. For more information on custom home closets in Miami, Coral Gables, Key Largo, Palmetto Bay, Kendall and Pinecrest, FL, visit www.trimlinedesign.com or call 305-666-7609.