Entertaining in your home brings you great joy. Most entertaining is centered around the kitchen, but a great custom home bar changes all that. Now, the focal point is the beautiful, functional custom wet or dry bar you have dreamed about for years. To make your custom dream home bar a reality, residents of Miami, Coral Gables, Key Large, Palmetto Bay, and the surrounding areas, turn to the experts in cabinetry design and installation at Trimline Design Center.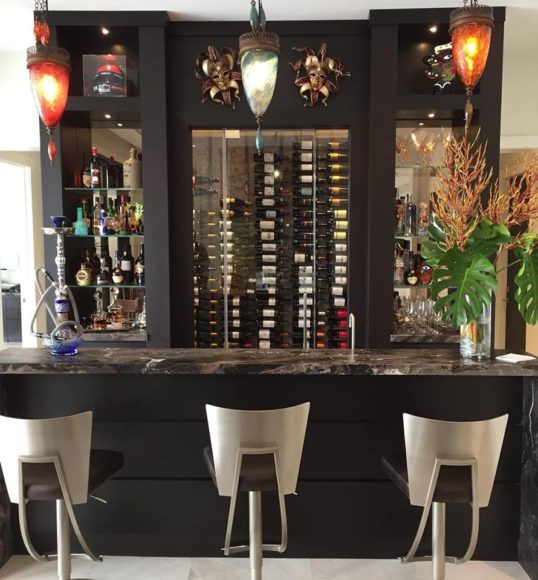 Designing the Perfect Custom Home Bar
During your complementary in-showroom consultation, you will describe your perfect custom bar to our professional designers. The more details the better, down to the color, style, and features. From wet sinks to wine racks and coolers, we can build an elaborate custom home bar to a simple, yet functional custom bar. We will work together exploring and choosing cabinets, countertops, shelving, and lighting. Once you have made a firm decision on cabinets, finishes, and colors, our designers will visit your home to assess and measure the area where the custom home bar will be built. They will take into consideration the size of the space and if the design of the custom home bar will flow properly. Once the in-home visit is complete, our expert designers will send you a final draft, for your approval and upon signing, will start the process of making your custom home bar a reality in Kendall, Palmetto Bay, and Pinecrest, FL. Entertaining guests at your new custom bar is almost a reality!
Trimline Design Experts Know Custom
Family owned and operated for more than 40 years, Trimline Design Center knows cabinetry design. Starting out in 1964, founder Lester Collins knew he wanted to create a more beautiful product, instead of just a frameless box to hold your dishes. In 1976, he did just that. Moving to a new store-front location in Pinecrest, Florida, Lester began providing high-quality custom wood cabinetry. Truly becoming a family affair, Lester, his wife, and daughter began designing upscale custom cabinetry. Soon after, even more, family members joined the team and now three generations provide expert design solutions for your custom home bars and cabinetry for any room use. For more information on custom home bars in Miami, Coral Gables, Key Largo, Palmetto Bay, Kendall and Pinecrest, FL, visit www.trimlinedesign.com or call 305-666-7609.