South Florida families enjoy spending time outside. More and more families are making their homes a retreat for relaxation and calmness. Adding an outdoor kitchen to your backyard setting brings the family closer together while enjoying the weather. An outdoor kitchen often becomes the gathering place. The designers at Trimline Design Center will discuss your ideas for an outdoor kitchen, in Miami, Key Largo, Palmetto Bay, Kendall, and the surrounding areas, and work to create the outdoor oasis of your dreams.
All-Weather Outdoor Kitchens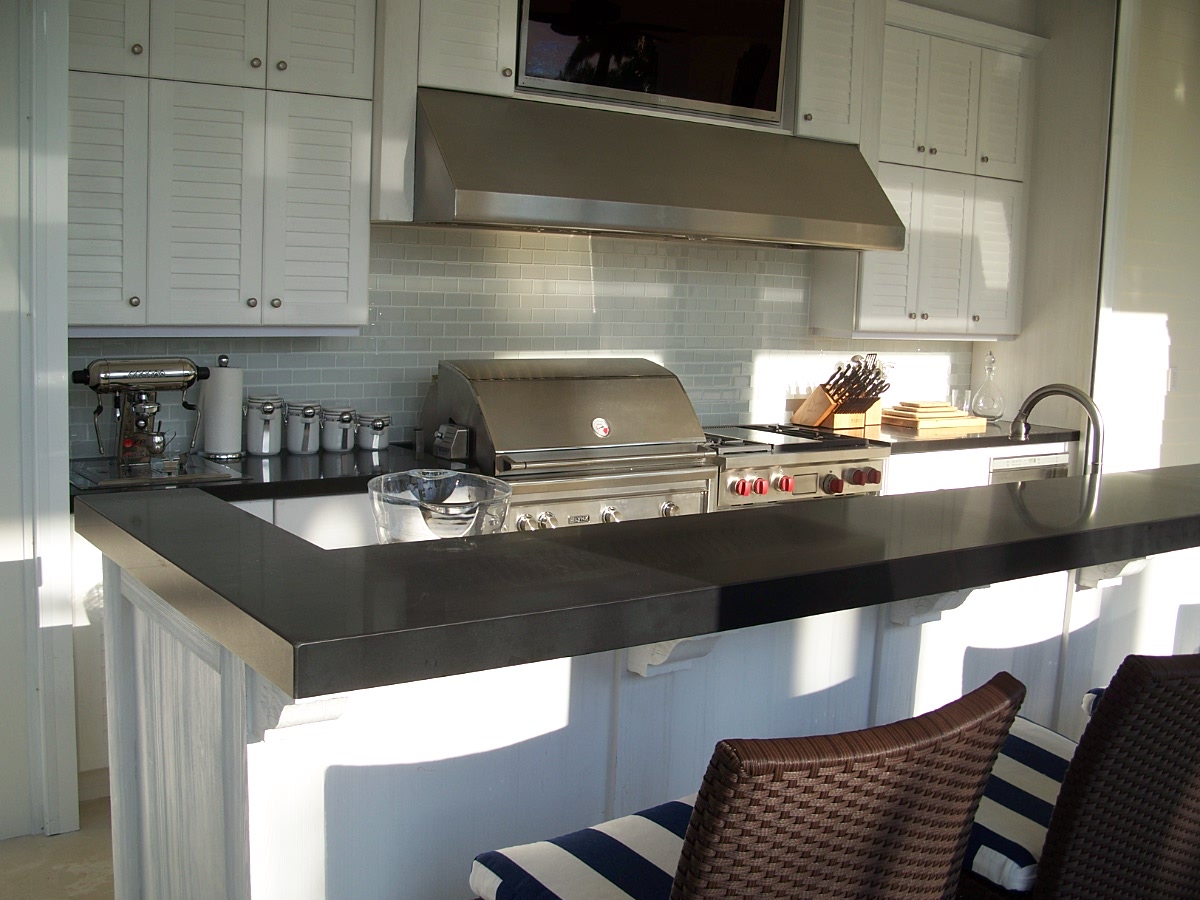 Creating an outdoor kitchen is different from your in-home kitchen. The outdoor kitchen must be able to withstand the weather therefore cabinetry must be water-resistant. There are three types of water-resistant cabinetry to choose from, namely stainless steel, marine-grade polymer, and teak. These outdoor kitchen cabinets will hold up in all types of weather, year after year. Miami, Key Largo, Palmetto Bay, Kendall, Coral Gables, and Pinecrest, Florida are known for beautiful weather, but we do have a few months of heavy rain, cold weather, and possible hurricanes. The good news is that you won't have to worry about your outdoor kitchen. It will hold up through wet and windy storms. Our designers will work with you to layout your outdoor kitchen exactly as you would like it. We can provide custom cabinets, as well as an outdoor bar area, to offer you and your guests a comfortable place to spend the day, well into the evening. Our goal is to create an outdoor kitchen that will blend with your yard, making it look like a backyard oasis, that has always been there.
Quality Outdoor Kitchen Designs
When we design your outdoor kitchen, we understand that the quality of materials used is most important. Whether you want a simple outdoor grilling area or a large outdoor kitchen area, to rival your indoor kitchen, and will fit family and friends, our designers will bring your ideas to life. They will create the exact kitchen design you desire, for your home in Miami, Key Largo, Palmetto Bay, Kendall, Coral Gables, Pinecrest, and the surrounding areas. All our designs use durable and sustainable cabinets that will last through our South Florida weather and look new for years to come. For more information on outdoor kitchens visit www.trimlinedesign.com or call 305-666-7609.