While your kitchen will typically have a suite of cabinets to provide a wealth of storage in Pinecrest, Palmetto Bay, Coral Gables, Ocean Reef, Miami Beach, Miami, and the surrounding areas, the bathroom cabinets are often something that is lacking in storage. This is partly due to the size of the room itself, which is usually much smaller than the kitchen, but when you work with Trimline Design Center we will help to maximize the storage with your bathroom cabinets while keeping the room as open and pleasing as possible. Contact us today to learn more.
Essential Aspects to Bathroom Cabinets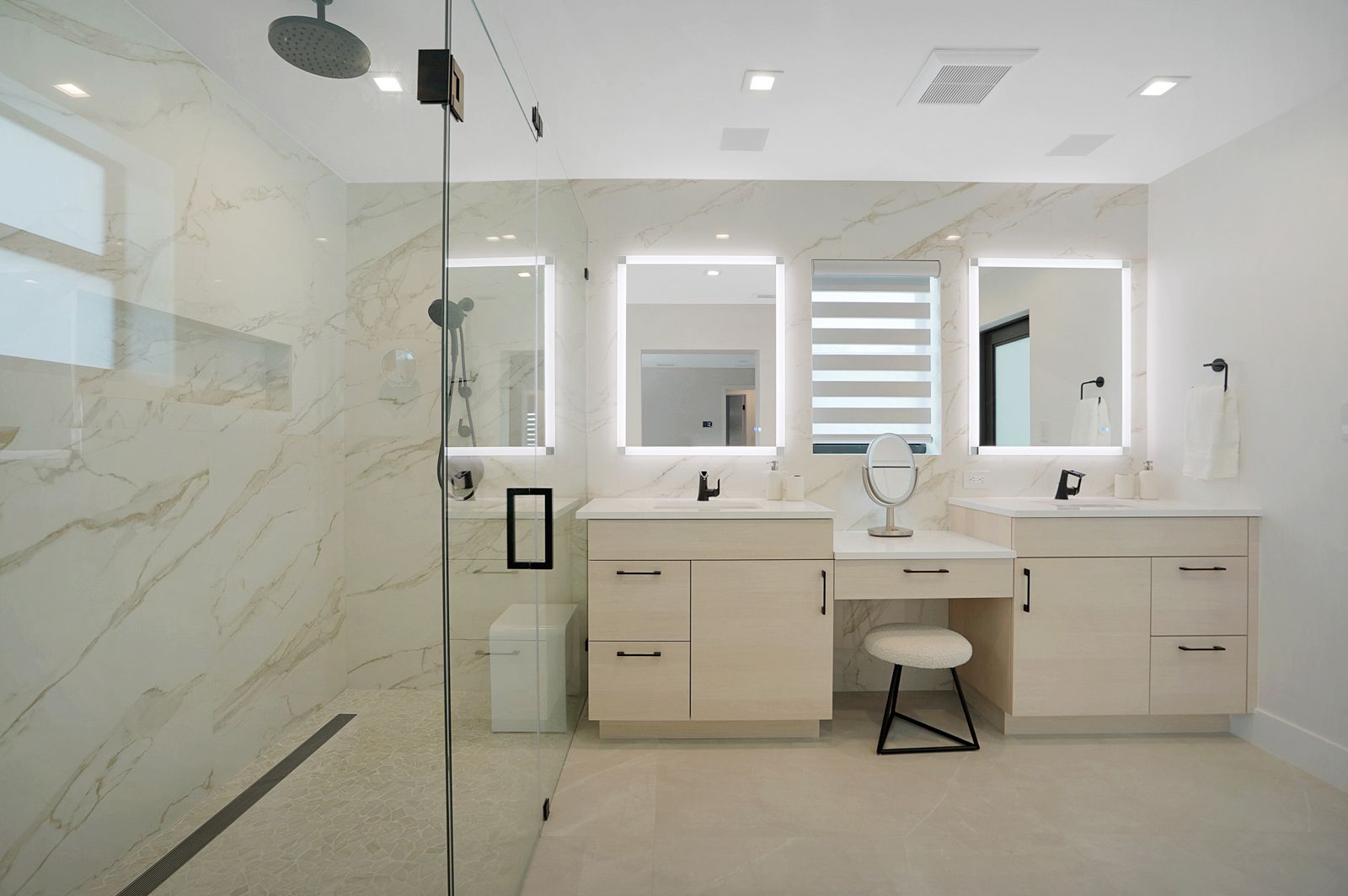 While it is tempting to just go out and buy a larger vanity or other cabinets, without taking the time to make a plan with the proper layout you won't know if you are making a good decision for your bathroom cabinets or not. If you are able to expand your bathroom, this will allow you to incorporate more storage options with your bathroom cabinets.
Measuring everything in your bathroom will allow you to be sure that you are getting the maximum value from every inch in the room. While you may be adding some standard bathroom cabinets, your options don't have to end there. You may be able to add built-in storage nooks that can either be shelves or house easily accessible baskets. Working with our team means that we can offer suggestions like these to complement the bathroom cabinets you really want.
Keep in mind that bathrooms typically feature lighter colors including light pastels or other bright and airy colors to even white. This is because lighter colors in smaller rooms make them feel larger whereas darker colors make small rooms feel even smaller. While bathroom cabinets come in a variety of colors and finishes, lighter colors will help to give the impression of a larger room.
Complement Your Bathroom Cabinets
You will likely have at least a single bathroom cabinet referred to as the vanity as this is where your bathroom sink will also be. And while this will provide some storage, you will likely want to have more storage. Some cabinets can be mounted above the toilet to provide more storage, but you can also look at other alternatives. Shelves that match the bathroom cabinets, free standing pieces for decoration and storage, and more can all help to make your Pinecrest, Palmetto Bay, Coral Gables, Ocean Reef, Miami Beach, Miami, and surrounding area bathroom an oasis of relaxation and calm. Contact the team at Trimline Design Center today to start working on getting your new bathroom cabinets.